By Savannah Verdon, Development and Engagement Coordinator II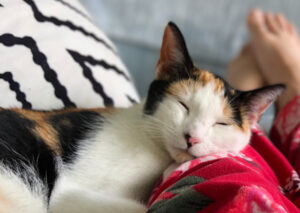 After their dog Sophie passed away in the spring of 2021, Candace and her family started rescuing and caring for unowned cats in their neighborhood. Making sure these semi-feral babies were spayed and neutered, and giving them routine veterinary care was this family's way of honoring Sophie's memory until they were ready to adopt another dog. Candace had rescued nine litters and their mothers in two short years. It was a labor of love, but caring for the cats helped them grieve Sophie. Baby Doll was part of the litter she rescued on what would have been Sophie's birthday the year after she passed.
Alongside her fellow rescues – Rosey, Tux, Sarah, Jo Jo, Lizzy, Wild, and Bella – one-year-old calico and pretty kitty Baby Doll enjoyed free reign over Candace's backyard with indoor access at her leisure. With such unbridled freedom, a cat as young as Baby Doll was bound to run into trouble. A neighbor a few doors down called one Monday afternoon to tell Candace that Baby was stuck in a tree on their property. Candance was able to coax her down and bring her back to the house so Baby Doll could rest after her harrowing adventure.
But the next morning once things had settled, Candace was horrified to see a big laceration marring her sweet little girl's soft belly. Putting the pieces together, she came to the conclusion that Baby Doll had been attacked by a dog while out exploring and got stuck in the tree, too injured to come down once the coast was clear. She was so thankful that her neighbor had contacted her and Baby was rescued before she was hurt again or developed an infection. But of the many cats she had rescued, Baby Doll was the first to need serious and urgent veterinary care.
If Baby had been injured two weeks prior instead, getting her the care she needed would have been easy for Candace. She had lost her job as a caregiver after her patient passed away from ALS complications and was in between patients, if not careers. All she could do for the moment was take Baby Doll to the veterinarian to be cleaned up and prescribed pain medication. Once she came up with a plan to raise the money, she would make sure the laceration was stitched up and nothing else was wrong with her little girl.
Like many community cat rescuers, Candace was resourceful. Her veterinarian told her about the RedRover Relief Urgent Care grant program, and that inspired her to not only apply for a Urgent Care grant, but to look online for other sources of assistance and compassion as well. She felt optimistic that she could raise enough for Baby Doll, and that optimism had paid off by the time she was told that her grant had been approved. They returned to the veterinarian as soon as possible so Baby could get stitches and they could take x-rays to confirm all was well beneath the surface of that soft little belly.
Rosey, Tux, Sarah, Jo Jo, Lizzy, Wild, and Bella were just as delighted as Candace and her family to have Baby Doll home and feeling like herself again. And because she couldn't roam the great outdoors while she was healing, Baby Doll became a fixture of the house, and therefore, the family.
"Baby Doll has healed beautifully. When it was time to remove her stitches, she growled and play-bit me on every single stitch as I struggled to stay calm and confident! The vet saw her for her recheck and called her a little miracle.

"She loves her raw goat's milk and making her rounds to everyone in the house demanding attention. Her favorite activity is interrupting my wife's meetings and she's become a welcomed guest with her co-workers.

"We are so grateful for the support after Baby Doll's accident. It meant the world to our family. I felt the energy around me as I spoke with the RedRover team on the phone – friends I will never know who generously cared for us in such a tangible way. I am still moved to tears remembering how lifted up I felt."
RedRover's FurEver Friends are the generous people Candace speaks of. We are so grateful for the Happy Tails like this that you make possible. Thank you for your continued support! ♥