By Savannah Verdon, Development and Engagement Coordinator II
Somewhere on a private road, in an unincorporated community with a population in the hundreds about an hour's drive northeast from Houston, Catie and her spouse lived with their two human children and their two fur children, Australian Shepherds Maggie Mae and Shorty. Catie was a stay-at-home mom, so the dogs were used to tagging along for errands and being part of the pack all day. They had the freedom to sniff every inch of the property while patrolling off-leash, keeping Catie and the kids safe from potential dangers like a bird taking flight or a leaf falling down. Still they never strayed from the private road, lest they miss the sound of lunch being served.
Every once in a while a car would come slowly down the private road steered by a lost and hesitant driver who eventually found their way. But one day as Maggie Mae and Shorty were getting their zoomies out on the property, a speeding truck barreled down the road, running Maggie Mae over as they went.
She was left with a rear leg broken. Fortunately, Catie was home and witnessed what happened so she rushed immediately to Maggie Mae and took her to the veterinarian. She and her spouse nearly drained their savings to pay for the surgery Maggie Mae needed to repair the leg – an expensive and extensive surgery, involving plates, screws, and wires. But she came home soon and seemed to be doing well after such an ordeal.
Two weeks later they were looking forward to good news when they returned to the veterinarian for X-rays to check her healing progress. Instead, the X-rays revealed that the plate in Maggie Mae's leg had somehow gotten bent. Her leg had already begun to heal around the plate. If it wasn't removed she was certain to suffer from pain and mobility issues for the rest of her life, and little Maggie Mae was only four years old! The veterinarian recommended amputating the leg altogether. She could adjust to being tri-paw'd, just as long as she wasn't in pain.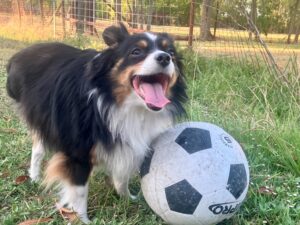 With their savings gone after the first surgery, and another urgent and necessary surgery ahead of them, Catie didn't know how they were going to make it work. The family relied on her spouse's income alone to meet all of their needs, and there simply wasn't enough time to save the money. Then Catie spoke to a friend, who may as well have been an angel for what they shared with her. When their pet needed help, they applied for a RedRover Relief Urgent Care grant and that's what helped them make it through their time of crisis.
Catie didn't waste a moment applying for an Urgent Care grant. By the day of the surgery, she was breathing a little easier knowing that they could afford it since her grant had been approved. Unlike the first surgery, Maggie Mae's amputation was a success. With all her Aussie smarts, she had figured out how to run and jump on just three legs in no time, and her little brother Shorty was delighted to have her back – the yard was too big for just one dog to patrol!
Maggie Mae was delighted to be home too and greeted her three siblings with glee, but if she were being honest with herself, it was her soccer ball she missed the most:
You help us make second chances, celebratory zoomies, and Happy Tails like Catie and Maggie Mae's possible. Thank you for being a FurEver Friend to the animals!